vPOP-pro is the veterinary Preoperative Orthopaedic Planner vets have been waiting for.
If you're a busy surgeon, needing precise planning tools that are always at your fingertips  in your pocket or at your nearest device , or if you've had enough of never finding the  out-of-date  fading slippery disappearing acetates  , just maybe you can't afford an overpriced software licence with pixelated implant templates restricted to one pc that's never near when you need it .
Well, the solution is downloadable in 5 minutes at vPOP-pro. 
Just click 'get vPOP'.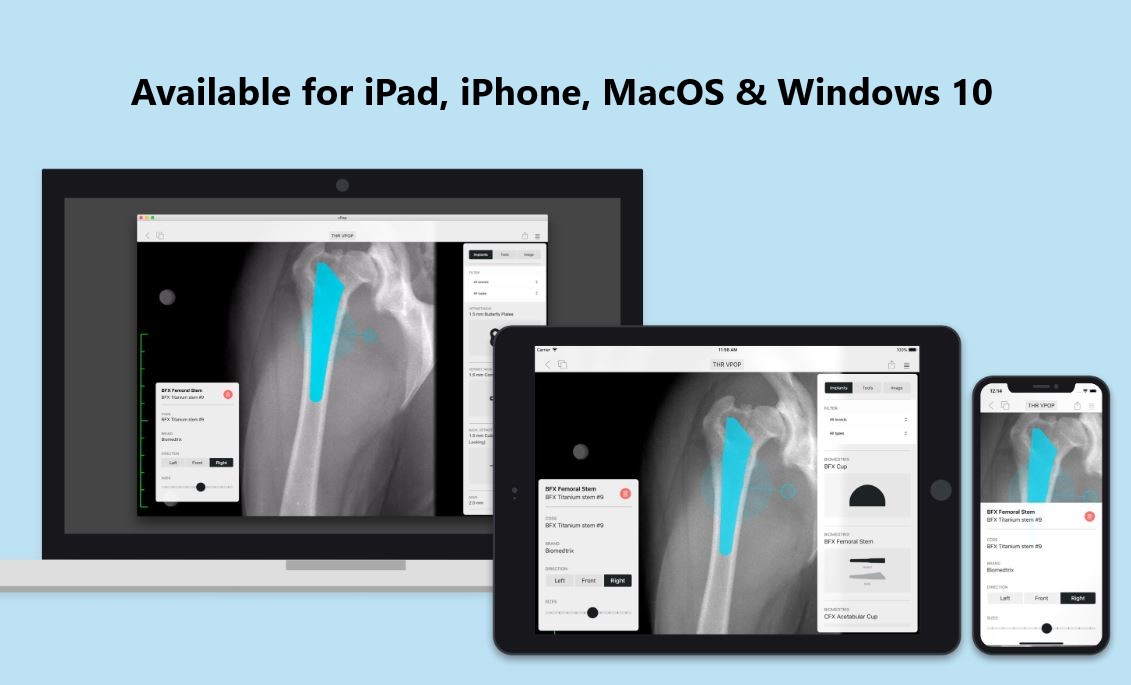 Every surgeon and their patients deserve the best portable precise and accessible planning tools to facilitate better patient outcomes.
You'll have one account across all your devices for seamless cloud syncing. Want to upload a radiograph you've been sent on your iPhone?…Done!
Want the convenience of being able to plan on your office laptop with your colleagues over a coffee?… Just login!
You can then take the plan into theatre to visualise your calculations. Simply prop your iPad on the trolley or stream it via Apple TV for the big screen experience!
"I believe as vets we deserve peerless resolution for precision implant templating. Every implant has been painstakingly digitally redrawn in vector graphic format – no more pixels!
For less than the price of a cup of coffee every week, a surgeon can have these precision planning tools in their pocket. Not only that, we can inform owners efficiently in the consultation room too. Orthopaedic consultations can be very stressful. Vets are always under time pressure because we want to ensure our clients understand everything, and it's all too easy to overrun simply because we care. If you have your iPhone and an internet connection, you can use vPOP.  I now save so much precious time every day,  I can efficiently  inform owners and leave them with a lasting image of the solution, not the problem that they have entrusted their pet to me for."  ~ Dr Rory Paton BVSc CertAVP MRCVS (founder of vPOP)
At only £125 per surgeon per year, or £12.50 GBP per month, you really can now plan and template a TTA, TPLO, CBLO, angular limb deformity, even a THR on your iPhone.
Take a mini tour to the vPOP mini instructional YouTube video channel. Watch a virtual  TPLO, CBLO, and TTA being performed and planned with efficiency and precision.
Designed by Vets for Vets, vPOP is helping surgeons in universities, referral centers, training course providers and first opinion practices around the world. Let vPOP help you and come see what people are talking about at vpop-pro.com and just click ' get vPOP'.
More details are available on the vPOP pro website. You can also join them on Facebook and Instagram.