As vets we all strive to improve the quality of life of our patients. Sometimes in order to achieve this goal, our patients may require surgical procedures which are technically challenging. Surgical procedures involving the patella and stifle are often complex but rewarding. Are you up to the challenge of furthering your skills in this area?
Dr Bruce Smith enjoys the challenges involved with surgery to joints, in particular the stifle and patella. His current roles as Clinical Director, Small Animal Veterinary Teaching Hospital, University of Queensland & Councillor, Australian & New Zealand College of Veterinary Scientists allow Bruce to devote a significant amount of time to help other specialists and clinicians achieve their goals. VetPrac is fortunate to have Bruce as an educator at the upcoming Patella and Stifle workshop.
Let's get to know Bruce, and his pathway to becoming a specialist surgeon and committed educator.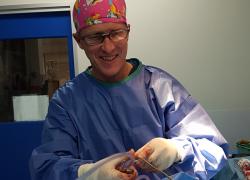 What inspired you to become a veterinarian and then go onto specialise in surgery?
"I recall that of all the clinical disciplines (and I was determined to be a clinician) it was surgery that grabbed my attention and imagination as an undergraduate and it grew from there".
Do you have a favourite surgery or procedure that you like to perform?
"Definitely those procedures that can restore function, reduce pain and allow the animal to express itself in movement – so orthopaedic and spinal. More specifically I have a deep appreciation and respect for engineers and bio mechanists and the implants and procedures that they have made possible".
What is it about surgery involving the patella and stifle that you enjoy the most?
"The surgical management of a dynamic structure – such as a joint – are intellectually and technically challenging and rewarding. The patella is certainly such a challenge".
Do you have any advice for general practitioners that wish to pursue further education in orthopaedic surgery?
"Motivation is the key; if you have it you will persist and if you persist you can achieve. There is so much access to informational and skills knowledge these days that a purposeful practitioner can easily self-inform. However, surgery is ultimately a balance of knowledge, technical skill, and good judgement. As such surgery has to be repeatedly & correctly practiced to become a skilled performance. This takes discipline, constant vigilance and good habits, both technical and mental. Developing good habits takes lots of time and hard work – there are no short-cuts, but practical instruction courses are a start".
Are you working on any projects at the moment?
"Currently my time is primarily taken up with helping other specialists & clinicians achieve their goals. However, I maintain a keen interest in what is new and will cheerfully get involved in intern and resident projects".
What do you enjoy about teaching?
"Ultimately teaching is learning, and this is a professional habit that I have nurtured over my career and it has rewarded me well. I see younger veterinarians facing the same challenges I did in developing their career, and believe that the exchange of skills, knowledge and experience is one of the true joys of being a professional".
What do you like to do to wind down? What do you like to do for fun?
"Not a lot these days – slowing down, taking time to "smell the roses" and to catch up on a mountain of reading".
Dr Bruce Smith can be contacted at [email protected]
Join Dr Bruce Smith, Dr John Punke and Dr Peter Young at Patella & Stifle Surgery in November. This practical hands-on workshop has limited places available. Book your spot now or download the brochure for more information.