No, not the movie and I promise John Candy won't be sharing his stories today. This is simply a helping hand from VetPrac to make your travels a little less stressful.
A few weeks ago, as I was traveling on other business, I had the opportunity to test out the travel routes to our upcoming Navigating Difficult Clinical Encounters Conference. Having never been a city girl, coming to Sydney for the first time since I was 16, I honestly felt a little nervous. No one wants to get on the wrong bus or miss a stop and end up who knows where. So, it is understandable to feel uneasy about travel.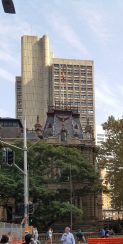 Thankfully, these days with the maps and apps on our phones it is much easier. I was always told to plan for the worst and hope for the best, so with my comfy shoes on I set off… At the airport it was fairly simple, there are heaps of signs around and staff to help if you are unsure how to get to the airport train.  In Sydney they use a pre-paid card system (like most other states) called OPAL. You can order your very own OPAL (card, sorry not the gem) online or by calling 136725 and it will be delivered anywhere around Australia free within five to seven working days. Otherwise, there is a booth at the train station where you can obtain your own card or a single trip ticket (which is only for the train and ferries, so you will need a proper card for the Bus).
The trains in Sydney are much bigger than ours in Brissy, so it was interesting to see the double-decker carriage set up. It took about 10min to get to Town Hall Station, then it was up a flight of stairs to street level. Having about 10min before the bus arrives, it is not a far walk and you can take a minute to soak up the history and beautiful architecture that is Town Hall.  A block and a half down Park Street you'll need to wait at Stand G for the 324 or 325 bus. Tapping your card as you enter, the drivers are really nice and you can ask them if they can stop at New South Head Rd at Wunulla Rd, Point Piper or track it on the Moovit App. But everyone needs a backup, so if you reach the water view, hit that stop call button quick and get off here…….
Heading back to Wunulla Rd, after approximately an 8 minute walk, the Royal Motor Yacht Club can be found on your right. This beautiful pristine setting will be where we will be spending three days (depending on your registration).
Perhaps you share the same view as Sheldon from the Big Bang Theory, and you don't want the put your bus pants back on at the end of the day. So, hopping onto a ferry might suit you better. It is a lovely 25min walk along the Harbour to the Rose Bay terminal. The F4 crosses the Harbour every 30min and takes you right into North Quay. Perfect location for catching the afternoon and reflecting on the day.
We hope to see your beautiful face there! Check out the details of the conference HERE. If you'd like to register click HERE, places are filling quickly.
Written by Janine Irwin