The Help 'Em Up® Harness was created by Blue Dog Designs in 2005 and is the first full-body lifting device for dogs with impaired mobility and strength.  When dogs have difficulty moving because of muscle weakness, neurological disorders, orthopedic conditions, injuries, or surgical repairs, the Help 'Em Up Harness provides them with the extra help up they need to live active and healthy lives.
Two things make the Help 'Em Up Harness truly unique:  its patented Hip-lift and complete comfort design.  The Help 'Em Up puts a handle over the hips and one over the shoulders to let you safely and gently lift from under the chest and hips — no wrapping around joints or tendons like many other harnesses, so you're helping, not hindering.
It's safe and comfortable so you can leave it on for extended periods of time! This makes it quick and easy for you to grab the handles on the harness and help your canine patients get up and out to rehabilitate, along with overcoming the daily obstacles of aging and getting around.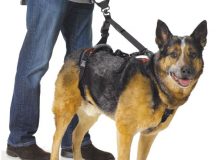 Veterinarians, nurses, and rehab therapists that use the Help 'Em Up in their practices have found that they can lift and move their patients quickly and comfortably with this unique harness.  And just as important, many report they like it because it minimizes their own injuries, especially their lower backs from the stress of moving and lifting patients.  This is an added benefit for your practice.
Read the reviews and watch demo videos on the website at helpemup.com.  They offer industry discounted pricing for practices who want to carry the harness and/or can provide you with brochures if you simply want to refer your patients for a Help 'Em Up Harness.